Aluminum Garage Doors by Raynor Hawai'i
Searching for garage doors in Hawai'i? Raynor has been providing the best doors for over 33 years. You have found the best-rated garage doors and service in the state. Our Aluminum doors offer the best in strength and reliability and can be applied to your residential or commercial needs. These modern doors will help to elevate and transform the overall look of your home.
Here are some of our recent installations on Oahu
Scroll ›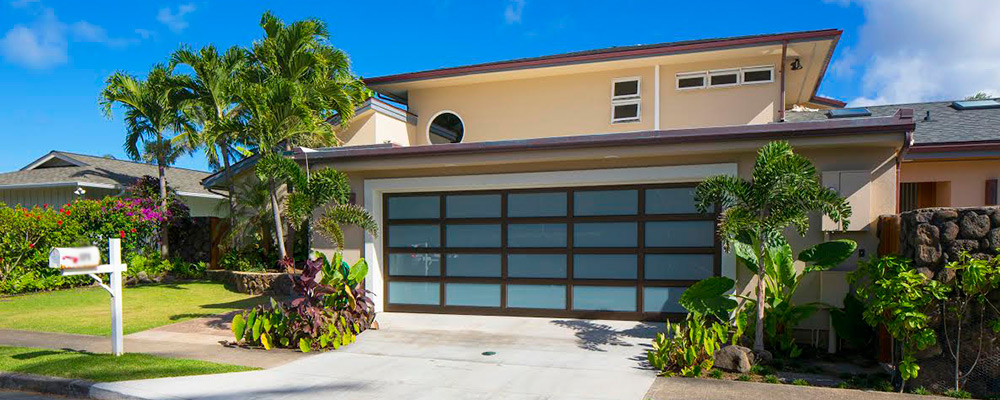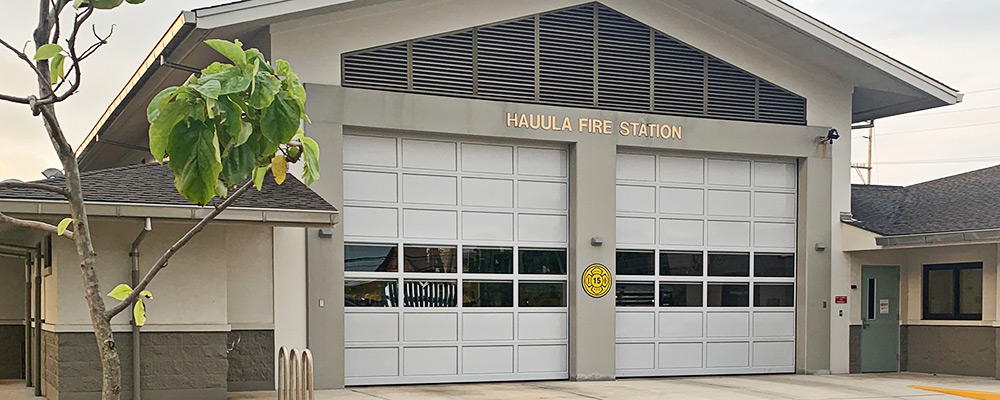 Alumaview Doors®
Alumaview doors by Raynor Hawai'i are our most popular model for good reason! The AlumaView® AV300 offers a full 3″ thickness and is the sturdiest door in the AlumaView family. The increased thickness adds strength and durability. With the incorporation of the U-bar trussing inside the rails, there are no obstructions to your view.

The AV300 is the clear choice for auto dealerships, car washes, corrosive environments, police, fire and ambulance stations, quick lubes, repair facilities, restaurants, marinas, sports facilities and buildings with large opening sizes.
Enjoy years of amazing performance from your AlumaView® door by Raynor Hawai'i. Features like:

• Strengthened U-Bars
• Header Seals to reduce air infiltration
• High-quality rubber jamb seals
• Your choice of windows (Available in impact glass, tempered, tinted, doublepane, insulated, acrylic, or polycarbonate in a variety of thicknesses. Glass thickness ranges from 1/8″ to 1″)
• Anodized finishes and much, much, more
Get a Quote
Wind-Rated Garage Doors:
Raynor offers a complete line of garage doors tested and approved by the Florida Building Code (FBC), the Miami-Dade building code, and the Texas Department of Insurance. Approved garage doors are available in a wide variety of designs and styles. Most Raynor residential steel garage doors come with a Wind Load option. Your garage door is normally one of the largest openings in your home. With extremely high hurricane insurance deductibles being the norm, you could easily end up losing many thousands of dollars if your home is damaged by the failure of your garage door. Raynor offers upgraded doors that have been tested and certified to the indicated strengths. Don't risk your insurance deductible taking away from your savings. Trust Raynor's High Wind rated doors to help protect what you have worked so hard to obtain For a comprehensive review of Raynor Wind Load tested and approved garage doors,
download the brochure
Aluminum Garage Doors by Raynor Hawaii
Raynor's aluminum garage doors offer both form and function to secure and complete your garage. Enjoy increased visibility without compromising durability, and don't forget the aesthetic value that can be added to your home by installing a contemporary door like this.
Raynor aluminum garage doors also have a unique strength that other doors don't. Our 3" thick "Alumaview" doors do not require an exterior strut which makes them more attractive without compromising any strength or safety. Garage doors in Hawaii need to be able to stand up to not only heat and humidity but potentially high-powered storms as well.
Would you like to see what your home might look like with a new garage door? Try using our "Design a Door" feature and you can either upload a photo of your own, or browse other completed projects to get inspiration!
TRY IT OUT HERE